Warm Springs Optometric Group

194 Francisco Ln #118
Fremont, CA 94539



Phone:(510) 490-0287
Fax: 510-683-8891




Mondays we are open:
07/24/2023
08/14/2023
08/28/2023
09/11/2023
09/25/2023
10/09/2023
10/23/2023
11/06/2023
11/20/2023
12/04/2023
12/18/2023
CLOSED Labor Day on 09/04/2023
CLOSED for Christmas on 12/25/2023
CLOSED for New Year's on 01/01/2024


Office Hours
Monday: 9:00 AM - 5:00 PM* (Alternating - See Schedule)
Tuesday: 9:00 AM - 6:00 PM*
Wednesday: 10:00 AM - 7:00 PM*
Thursday: 9:00 AM - 6:00 PM*
Friday: 9:00 AM - 5:00 PM*
Saturday: 8:00 AM - 1:00 PM (Alternating - See Schedule)
Sunday: CLOSED
(* - Closed for lunch 1 PM - 2 PM)

Saturdays we are open:
07/22/2023
08/12/2023
08/26/2023
09/09/2023
09/23/2023
10/07/2023
10/21/2023
11/04/2023
11/18/2023
12/02/2023
12/16/2023
12/30/2023
Closed for Thanksgiving from 11/23/2023 to 11/25/2023

Only If you have a sight-threatening emergency during our closed hours, please call 510-371-1411. If you do not receive a response within 20 minutes, proceed to the nearest emergency care .
Payments We Accept:






About Our Location: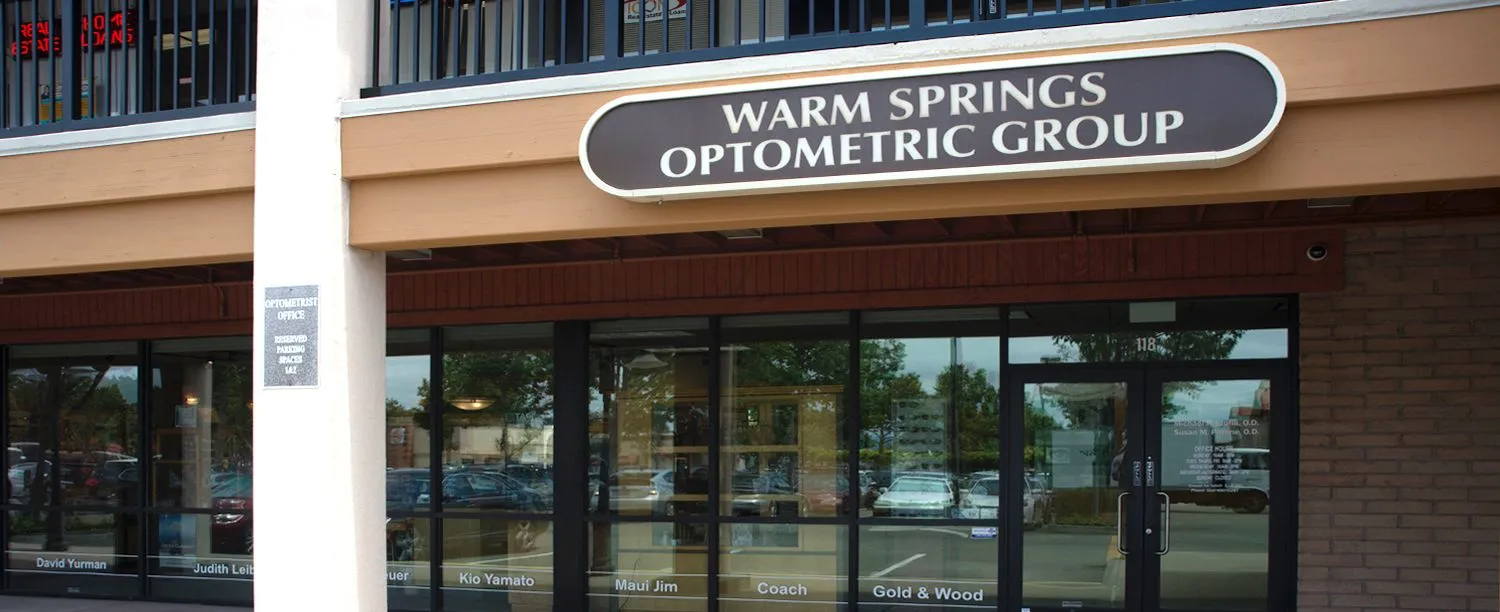 Conveniently located at the intersection of Mission Blvd and Warm Springs Blvd between I-680 and I-880 in Fremont, CA (near the San Francisco Bay), we are open 5 days a week with hours that can fit any schedule (see business hours listed above).
Please call us to make an appointment with our eye doctors to talk about your eyeglasses, contact lenses or specialty lens needs. We also offer the latest advanced technology to give our patients the highest possible care, such as OPTOS Retinal Exam and Orthokeratology for Myopia Management. Or we would be happy to have you drop in anytime to browse through our large selection of designer eyeglass frames and sunglasses. You'll enjoy browsing through our contemporary frame display area featuring over 600 designer frames including Tom Ford, Zero G, Tommy Hilfiger, Jimmy Choo, Salvatore Ferragamo, Maui Jim, TC Charton and many more.
Our Optometrists serve all of Fremont, CA & local neighborhoods like Warm Springs, Milpitas, and Newark in Alameda County.
1985 was the start of Warm Springs Optometric Group. In September of 2003, our optometrists moved our office into our brand new state-of-the-art, 3000 square foot facility in the Franciscan Center. In 2022, passed on the practice to Dr. Payal Bavishi, OD to continue the legacy we have created. Comfort and convenience for our patients was our ultimate goal as we dedicated our time and energy to designing our new office. You'll notice our spacious patient lounge and kids play room, five computerized private exam rooms and two full size pretest rooms.
Come see why our patients love coming here!