LASIK is a procedure that is used to treat myopia (nearsightedness), hyperopia (farsightedness), and sometimes astigmatism. If your eye exam reveals that you have any of these conditions, you may consider getting LASIK instead of using glasses or contacts. At Warm Springs Optometric Group in Fremont, our eye doctors provide pre- and post-surgical care for LASIK patients. Surgery on the eyes can seem like an intimidating experience, even though this procedure is well known and has been used for decades. We have gathered some of the common questions that we run into regarding LASIK.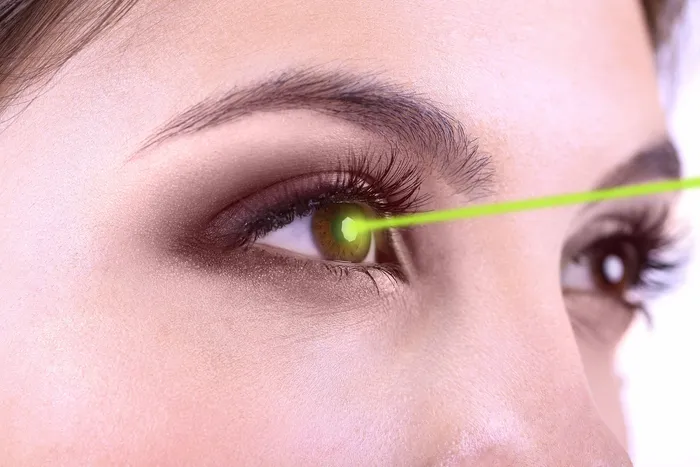 Some people are contented with contact lenses or glasses their whole lives. Others want to stop using these vision aides and contemplate getting LASIK surgery. Although this laser surgery is extremely commonplace and many have reported great results after LASIK, it's still good to be informed. This lets you make the most educated decision possible.

Does LASIK Result in Perfect 20/20 Vision?
The purpose of LASIK is to get your vision as close to 20/20 as possible. If you have nearsightedness or farsightedness, you have this condition because your cornea is not shaped properly, or your eye is too long or too short in its axial length. LASIK can be used to help correct vision, but eye doctors are unable to guarantee perfect results. You may still need to wear corrective glasses or lenses after the procedure.
Is LASIK Safe?
LASIK has been performed on millions of people all over the world. It is considered to be a safe procedure. As with any surgery, it does have some risks, but there is only a one percent risk of complications during a LASIK procedure.
Is LASIK Painful?
There is the possibility that you will experience some discomfort. However, many patients say they do not feel pain after the procedure. Analgesic drops with anesthetic properties will numb your eyes before the surgery. You may also be given a sedative before the surgery. You may feel some pressure around your eye during the surgery, but you will not feel pain.
Your eyes may feel irritated after the LASIK procedure. Taking a nap at home after the surgery will help your eyes rest before resuming your normal activities. Eye drops will be given to help with the healing process after the surgery.
When Can Normal Activity Resume?
You will be given a list of post-surgical care orders after your LASIK treatment. You may resume your regular routines the next day. You should be able to see better within 48 hours. Until you know how much better you can see, do not resume your normal activities.
Are The Results Permanent?
Our optometrists may have recommended LASIK as a near-perfect and permanent solution. LASIK surgery is effective at producing long-term results.
What Is LASIK Surgery?
LASIK, also known as laser-assisted in situ keratomileusis, is a type of eye surgery. Patients who receive this surgery can often cease using contact lenses or glasses because their vision gets better. LASIK can treat presbyopia, astigmatism, farsightedness, and nearsightedness. Patients can receive this procedure in either eye or both.
What to Expect During Your LASIK Consultation?
You will first have a LASIK consultation with your optometrist in Fremont. During this consultation, the optometrist may run some tests, review your medical records, and ask some questions to decide whether you're a candidate for LASIK.
To be eligible to receive this surgery, it's recommended you're not pregnant or recently pregnant, you're at least 23-24 years old, and you don't have eye conditions like keratoconus. If your optometrist discovers you're ineligible for the procedure, you can talk about other treatment options.
Care after Your LASIK Surgery
Once you receive LASIK, you shouldn't have many side effects besides watery eyes and maybe some itching and irritation. To ensure your eyes are as healthy as possible, you should limit the following:
If you smoke, you may want to cease this activity for at least a week or two. Getting smoke in your eyes may make them red, watery, and sore.
For at least 30 days, refrain from contact sports.
For the first week after surgery, stay clear of dust or dirt.
You should also steer clear of water for at least a week. Bathe instead of shower so there's less risk of getting water in your eyes. Don't use hot tubs or swimming pools.
In the first week, refrain from any form of physical activity. Even light exercise could cause complications.
Although it will be hard, you must not touch your eyes. They may itch, but scratching at them could do more harm than good.
You'll have to wait several days to drive again, so make sure you have a ride to and from the surgery.
About Warm Springs Optometric Group, Your Fremont Optometrists and Eye Doctors
If you're looking to get LASIK, you should see us at Warm Springs Optometric Group. As your Fremont optometrists and eye doctors, our list of services includes myopia management therapy, contact lens fittings, eyeglasses fittings, sunglasses fittings, sports vision treatment, computer vision treatment, red eye treatment, dry eye treatment, Ortho-K contacts, vision therapy, eye surgeries, contact lens exams, and vision and eye exams.
Our lead optometrists are Dr. Susan Pirrone and Dr. Payal Bavishi. To contact either of them or set up an appointment today, you can reach us by phone at (510) 490-0287 or visit us at Warm Springs Optometric Group on 194 Francisco Lane, Suite 118.